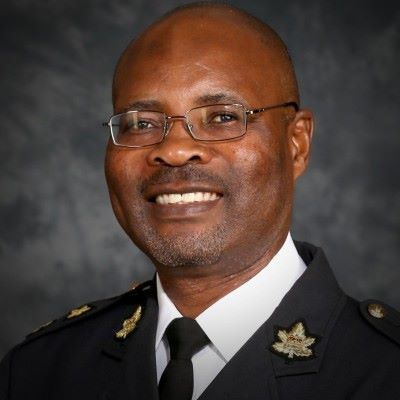 This Faculty of Dispute and Conflict Resolution & Chaplaincy if headed by Dr. Francis (Munangi) Mpindu. Dr. Mpindu was born and grew up in Harare, Zimbabwe, before immigrating to Canada a little over 33 years ago. He is a down-to-earth transformational leader who enjoys serving and equipping others with life skills to enjoy a purpose driven life.
Dr. Francis is a Police & Community Relations Consultant – very passionate about facilitating healthier relationships between the police and the communities they serve. He is in his 19th year as a Chaplain with York Regional Police (YRP).
He was the first Afrikan Canadian to serve as York Regional Police (YRP) Chaplain. His book, "Community Policing: The Path to Healthier Relationships – a Police Chaplain's Perspective" (2020) is a great resource being used in various contexts including colleges, universities, and police services.
His academic journey included Communication Arts, Multiculturalism, Mental & Emotional Wellness, Grief Edu-Therapy, Narrative Trauma, Systematic Theology, Counselling, Life Coaching, Alternative Dispute & Conflict Resolution, Indigenous Studies, and Decolonization Processes.
He is a graduate of Daystar University (Nairobi), Prairie College (Three Hills), Trinity Western University (Langley), University of Ottawa & St. Paul University (Ottawa), York University (Toronto), and University of Pretoria (South Africa) – where he earned his PhD in Philosophy & Ethics.
Dr. Mpindu is a seasoned speaker, certified life coach, and author drawing from his over 25 years of experience working in senior leadership positions in various organizations, ministries (giving senior pastoral oversight) and institutions including lecturing at Tyndale University, University of Guelph-Humber, and Shiloh College. He has also been a guest lecturer in The Philippines, USA, Jamaica, Uganda, South Africa, and Zimbabwe.
Among his other involvements in the global village, Dr. Mpindu serves on various boards of organizations, participates in community initiatives, and has growing friendships with First Nations communities on Turtle Island (North America), especially with Moose Cree First Nation (Ontario, Canada). He is passionate about, sports, music, and broadcasting. Learning languages and eating different foods are regular expressions of his appreciation for inclusivity and cultural diversity. He believes that "eating is natural, what you eat is cultural."
He is married to Cynthia, and they have 7 children – five daughters and two sons, and a grandson.